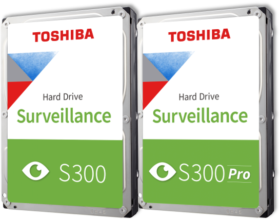 TAIPEI – Taiwan, August 27th, 2020 – Toshiba Electronic Components Taiwan Corporation ("Toshiba") announces changes to its S300 Surveillance hard drive series. The changes include a new S300 series using shingle magnetic recording technology (SMR) for small and medium-sized businesses (SMBs) and the renaming of the conventional magnetic recording technology (CMR) drives to the S300 Pro series for professional and public sector use. 
Targeting the demands of lower cost video surveillance systems, the new S300 series hard drives, available in 2TB and 4TB, are optimized for use in cost-constrained applications while fulfilling the requirements of surveillance systems with up to 32 high-resolution camera streams[1]. The S300 series with 5400rpm and a buffer size of 128MB meets various requirements for HD video surveillance including technology for set-top boxes, digital video recorders (DVR), and network video recorder (NVR).
The new low capacity S300 series are based on SMR technology that uses overlapped tracks for higher data density, leaving just the required magnetic surface needed for correct reading. This contrasts with Conventional Magnetic Recording (CMR) where each track is separated by a small distance. As a result, SMR allows higher capacities for the same magnetic area as a CMR drive to help improve Total Cost of Ownership (TCO). The implementation of an appropriate cache-architecture compensates the potential disadvantages of random re-writing of overlapped tracks making the S300 suitable for low cost surveillance applications.
For professional surveillance systems that require up to 64 high-definition camera streams[1], video analytics, face-tracking and editing functions, Toshiba offers the S300 Pro series with CMR technology. With high capacities up to 10TB[2], and a buffer sizes up to 256MB, they are excellent for surveillance digital video recorders (SDVR), surveillance network video recorders (SNVR), and Hybrid SDVR.
"Considering the continuous growth in surveillance systems worldwide, Toshiba's refreshed S300 series and S300 Pro hard drives offer a tailor-made surveillance storage solution. Targeting the latest requirements in the surveillance storage market, they provide stable 24/7 operation and are optimized to the needs of leading surveillance DVRs and NVRs using eight drive bays or more. Toshiba helps surveillance system integrators, system installation providers, and end users to record and store their video and audio streams with utmost confidence," noted Takayoshi Tokushima, Senior Manager of Marketing Division at Asia Strategic Alliance, Toshiba Storage Products.
The Toshiba S300 Pro Series and the new S300 4TB model are available now, while the S300 2TB is expected to be available later this year. For more information on the products, capacities, and their availability, please visit: https://www.toshiba-storage.asia/s300-surveillance-hard-drive/
For more information on the S300 Pro Series, please visit: https://www.toshiba-storage.asia/s300-pro-surveillance-hard-drive/
For more information on Toshiba's full line of HDD storage products, please visit:
https://toshiba.semicon-storage.com/ap-en/product/storage-products.html
###
Notes:
[1]Number of surveillance cameras support capability is defined by performance simulation with High Definition cameras at 4Mbit/s rate. Actual results may vary based on various factors, including the types of cameras installed, the system's hardware and software capabilities, and the video compression technology used, as well as system variables such as resolution, frames per second, and other settings.
[2] Toshiba defines a megabyte (MB) as 1,000,000 bytes, a gigabyte (GB) as 1,000,000,000 bytes and a terabyte (TB) as 1,000,000,000,000 bytes. A computer operating system, however, reports storage capacity using powers of 2 for the definition of 1TB = 240 bytes = 1,099,511,627,776 bytes and therefore shows less storage capacity. Available storage capacity (including examples of various media files) will vary based on file size, formatting, settings, software and operating system and/or pre-installed software applications, or media content. Actual formatted capacity may vary.
* Information in this document, including product prices and specifications, content of services and contact information, is current and believed to be accurate of the date of the announcement but is subject to change without prior notice.
* Images displayed in the banners are for illustration purposes only and do not show the actual products. The images are merely intended to help illustrate the function of the products.
* Company names, product names, and service names may be trademarks of their respective companies.